One thing you will notice about Texas A&M University – SCHOOL PRIDE!  Just walking around campus, you will see that almost everyone is sporting some sort of A&M or Student Organization t-shirt.
And why should Aggie Moms be any different?
Each year, we come up with a new idea for a Beaumont Aggie Mom t-shirt to wear with pride.  This year, we have ordered the softest maroon and grey baseball style t-shirts you can find.  Shirts in size XS-XL are $25.  Limited number of larger sizes (2XL) are also available.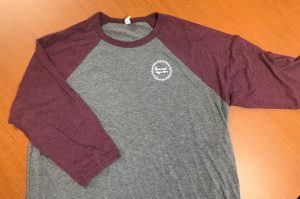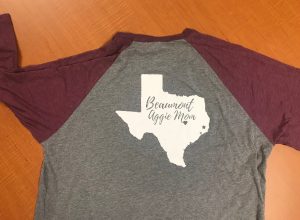 We still have plenty of short-sleeve grey or maroon (v-neck) Aggie Mom t-shirts sizes XS-XL available for $20, as well.  It is the same design as the baseball t-shirt.
***NEW ITEMS***
This year, we are also selling Aprons for $20 each!  They have been a big hit so far, but we will have some available for sale at our monthly meetings.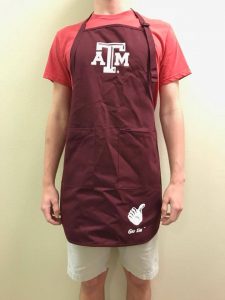 Soon to come are Clear Cross-Body Bags for $25 each.  We will have pictures posted when we receive them.
If you are interested in purchasing a Beaumont Aggie Moms T-Shirt or Apron, email us at beaumontaggiemoms@gmail.com to the attention of Darla Eason, our 2018-19 Fundraising Chair. T-shirts will also be available for sale at all of our meetings.